PARTNERS IN EDUCATION
NWFA Partners in Education are companies that contribute to the success of the NWFA's educational programs and have assisted with the advancement of the wood flooring industry. NWFA Partners donate time and/or materials to the NWFA's school programs, and make financial contributions toward educational advancement.
For more information on becoming a Partners in Education, please contact us.
Thank you to all our Partners in Education.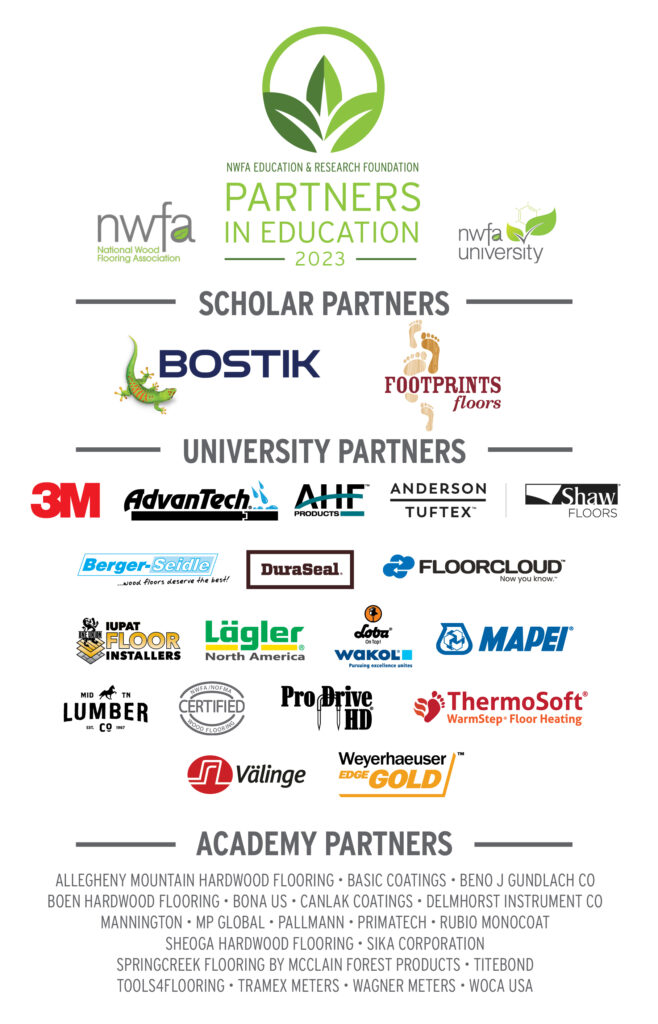 ---
NWFA Contributors
Aacer Flooring
Absolute Coatings Group
Allegheny Mountain Hardwood Flooring
American Sanders
Anthony Oak Flooring
Basic Coatings
Beno J. Gundlach Co.
Boen Hardwood Flooring
Bona US
Bostik Inc.
Buchanan Hardwoods-Elite Brand Flooring
C&M Wood Flooring, Inc.
Carlisle Wide Plank Floors
City Floor Supply
Cumberland Lumber & Manufacturing
Custom Building Products
Custom Wholesale Floors Inc.
Delmhorst Instrument Co.
Derr Flooring Company
DuraSeal
DURATOOL Inc.
Easy Groove Tooling LLC
Endurance Floor Co., Inc.
Erickson's Floor Supply
Eukula
FESTOOL
Fortifiber Building Systems Group
Galleher Corporation
Gehl Flooring Supply Inc.
Glitsa, a division of Rudd Company
Graf Custom Hardwood
Hamburg Hardwood Flooring
Harris Wood Floors/Q.E.P. Co. Inc.
Henry County Hardwoods
Herwynen-Superior Flooring
Huber Engineered Woods
Lägler North America
Lauzon Distinctive Hardwood Flooring
Lebanon Oak Flooring Company
Lignomat USA Ltd.
Loba-Wakol, LLC.
Lockwood Flooring
Louisiana Pacific
Mannington Mills Inc.
MAPEI Corporation
The Master's Craft
Maxwell Hardwood Flooring
McMinnville Manufacturing
Mid TN Lumber Co.
Mirage
Missouri Hardwood
MP Global Products
Mullican Flooring
Norton Abrasives
Oneida Air Systems Inc.
Ouachita Hardwood Flooring
Owens Flooring by Quanex Building Products
Pallmann
Palo Duro Hardwoods Inc.
Peachey Hardwood Flooring
Powernail Company Inc.
Premiere Finishing & Coating
Primatech Inc.
Real Wood Floors
RQ Floors
Rubio Monocoat USA LLC
Shaw Industries Inc.
Sheoga Hardwood Flooring & Paneling Inc.
Sika Corporation
Smith Flooring Inc.
Somerset Wood Products Inc.
Springcreek Flooring by McClain Forest Products
Starcke Abrasives USA Inc.
Stauf Adhesives
Titebond
Tramex Ltd.
Välinge
Wagner Meters
WD Flooring
Weyerhaeuser Company
WOCA USA
WOODWISE/Design Hardwood Products Inc.
NWFA Volunteer Contractors – Instructors
Carpenters International Training
Epic Hardwood
Huggins Wood Flooring
ITAC International
JD's Flooring
Luminous Floors
MSCS Flooring
Michigan Hardwood Floors
Moore & Neville, Inc. Flooring Inspections
Pro Flooring
Valenti Flooring
Willie James Quality Flooring