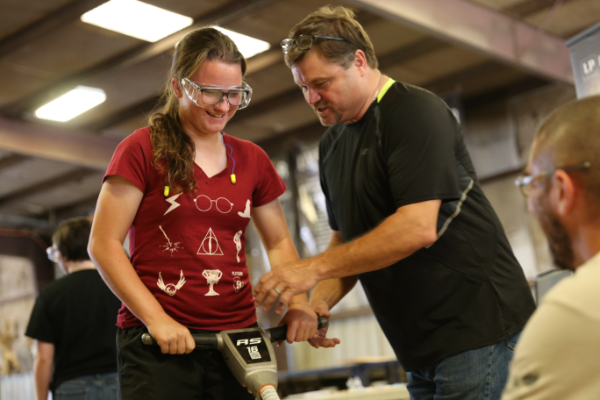 NEXT GENERATION
The NWFA engages in many initiatives to help promote career options within the wood flooring industry. These programs give young adults an introduction to different sectors of the industry. Learn how you can get involved.
NWFAU
NWFA University Combined with Digital Badging
Since launching NWFA University, the association has seen enthusiastic engagement: courses are being completed at an average of 60 per day, and more than 12,000 badges have been issued in partnership with Credly, a digital credentialing platform that ensures that credentials are valid, reliable, and authenticated. Digital badging will help with brand awareness as they are shared on social media sites, thus providing visibility to a younger, tech-savvy, social generation. Learn more.
HIGHER LEVELS OF CERTIFICATION
NWFA now offers two higher levels of certification: Certified Craftsman and Certified Master Craftsman. These advanced certifications provide our members with a clear path to becoming a leader in their trade and opportunities for growth.
APPRENTICESHIP PROGRAM
Federal Department of Labor (DOL) Approved Apprenticeship Program
NWFA has an approved Wood Flooring Specialist apprenticeship with the Department of Labor. This program will help NWFA members attract and retain a qualified and skilled workforce, and also will provide a clear career path for those new to the trade. Opportunities exist for employer funding, while apprentices will be able to earn and learn on the job. Learn more.
CAREER FAIRS
Career fairs provide an opportunity for employers to attract new employees. NWFA has materials available to help members market the trade to students and other prospects.
ACTE MEMBERSHIP
NWFA participates in the annual Association for Career & Technical Education show each December. The show brings 5,000 CTE professionals together from across the country, which will help NWFA grow connections with CTE centers nationwide.
MANUFACTURING DAY
NWFA assists members participating in Manufacturing Day, which takes place each year on the first Friday of October. Manufacturing Day is a national initiative created by the National Association of Manufacturers to promote careers in manufacturing. Details can be found at mfgday.com.
BOY SCOUTS OF AMERICA
NWFA has developed curriculum that members can implement in their own communities to engage with Cub Scouts and Boy Scouts. For Cub Scouts, a lesson plan for hosting a Pinewood Derby Day is available. For Boy Scouts, a lesson plan to complete all the requirements for the Woodwork Merit Badge is available.