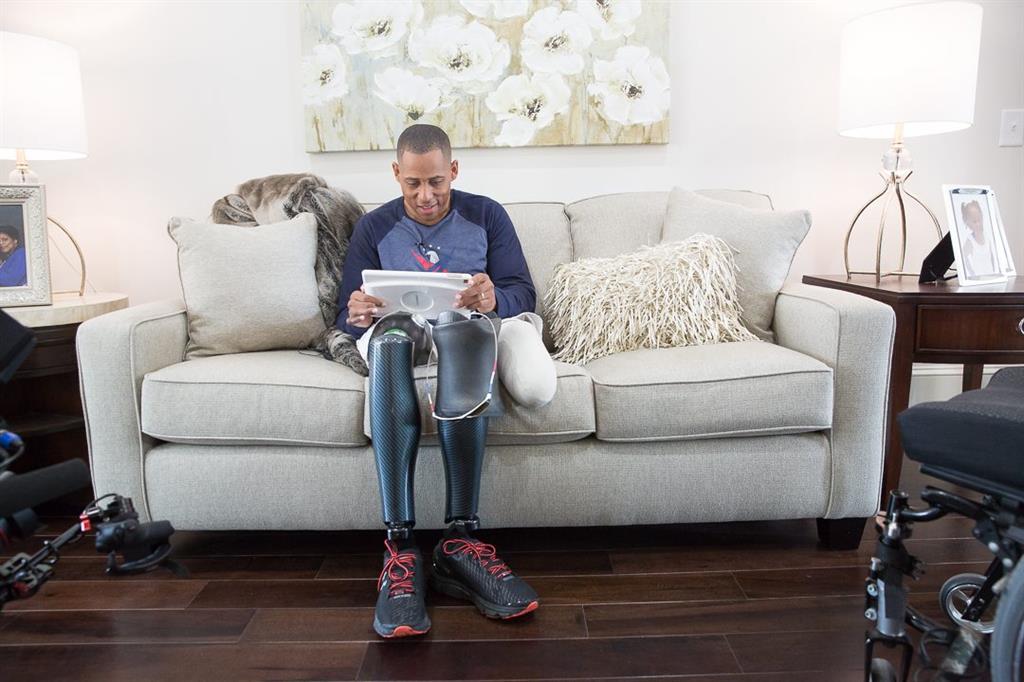 GIVING BACK
The NWFA has established long-term relationships with charitable organizations to provide members with opportunities to engage in service in their own communities, while promoting the benefits and uses of wood flooring, and their own businesses.
GARY SINISE FOUNDATION (GSF)
GSF provides severely wounded veterans and first responders with the resources necessary to overcome their new life challenges. NWFA supports GSF by providing wood flooring and installation services for custom-build Smart Homes through the GSF RISE (Restoring Independence Supporting Empowerment) program. These homes are provided free of charge in gratitude for the sacrifices these service men and women make for our country. NWFA thanks the following members for their support of GSF RISE and invites all members to get involved in this nationwide effort to honor and serve our wounded heroes.
Aacer Flooring
Absco/Canlak Coatings
Advanced Wood Floors
AHF Products
All American Hardwood Flooring
Allegheny Mountain Hardwood Flooring
Allwood Flooring
Amaz Floors
Ambassador Floor Company
AmBro Enterprises dba A&B Floors
American OEM Wood Floors
Ames Tile
Arboritec USA
Artisan Hardwood Floors
Barnum Floors
Benchmark Wood Floors
Bergmann Hardwood Floors
Blackhawk Floors
Boatright Hardwood Floors
Boen
Bona US
Borders Hardwood Floors
Bostik
Brazilian Floors
Builders Floor Service
C&R Flooring
Coles Fine Flooring
Consult Inspect Design
Daniel Wood Floors
Davidson Wood Flooring
Denver Hardwoods
Derr Flooring
Designer Wood Flooring
Diamond Wood Floors
DL Hardwood Floors
DriTac Flooring Products
ECOFloors
Elegant Hardwood Floors
Elliott's Quality Flooring
Epic Hardwood Floors
Floor & Décor
Floor Doctor, The
Floorcoverings Done Wright
Flooring Services SW
Flooring Systems Inc.
Florida Tile
Fortifiber Building Systems Group
French-Brown Floors
Galleher Corporation
Geneva Flooring
Grill Works Inc.
Green Life Construction Floors
Guthrie's Flooring
Harbour Hardwood Floors
Hatcher's Floors
Hearthwood
Henderson Wood Floors
Home Team Construction
Homerwood Hardwood Flooring Company
Horizon Forest Products
Huber Engineered Woods/Advantech
Ideal Hardwood Floors
Installers Warehouse
Integrity Hardwood Floors
International Flooring
JD's Flooring
Jerry's Fine Floors
JJ Haines & Company
Joe's Hardwood Floors
Just Around the Corner
JW Hardwood Floors
Kalley Flooring
Kristynile Hardwood Flooring
Lady Baltimore Hardwood Floors
Lägler North America
Lockwood Flooring
Loudoun Valley Floors
Mannington Mills
MAPEI Corp.
Master Care Flooring
Masterpiece Wood Floors
Maxwell Hardwood Flooring
MSCS Inc.
Metropolitan Hardwood Floors Inc.
Middle TN Lumber Co.
Mid South Flooring
Mid-West Floor Company
Missouri Floor Company
Motto's Flooring
MP Global Products/Quiet Walk
Mullican Flooring
Muscanell Millworks
National Tile Contractors Association (NTCA)
Naturally Aged Flooring
New Dimension Hardwood Floors
Norman Carpet One Floor & Home
Norton Abrasives
North Texas Surfaces
Ogle's Hardwood Flooring
Old World Floors
Olson Hardwood Floors
Oshkosh Designs
Pacific Floor Covering
Palembas Hardwood Floors
Pallmann – brand of Uzin Utz NA
Palo Duro Hardwoods
Panel Town & Floors
Parker Young Construction
PDL Floor Designs
Pope Hardwood Flooring
Powernail
Premiere Finishing & Coating
Prestige Flooring
Prospect Hardwood Flooring
PTL Hardwood Floors
Quality Hardwood Flooring
Ram Board
Randy Stewart's Hardwood Flooring
Real Antique Wood
Regal Hardwoods Inc.
Restoration Hardwood Flooring
Revco Floor Finishing
Revel Woods
Royalwood Associates
Rust-Oleum Corporation
Seashore Floor Co. Inc.
Shaver Hwd.
Shaw Industries
Sheoga Hardwood Flooring & Paneling
Signature Floors and Interiors
Signature Hardwood Floors
Somerset Wood Products
Southern Oaks Flooring
Southern Woods Flooring
Sports Floors
Specialty Wood Floors
Steffen's Hardwood Flooring
Sticks & Stones Dist. Inc.
Struxtur Inc./Evolutions Floors
Summers Flooring & Design
Sunko Floor
Sunray Flooring Co.
Swiff-Train Company
Texas Flooring & Interiors
Tradline Construction
Trinity Hardwood Distributors
Troendle Hardwood Floors
Universal Floors
Vintage Floors
Walk on Wood
WD Flooring
Weeks Hardwood Flooring
West Coast Flooring
Weyer's Floor Service
For more information about GSF RISE, please visit the Gary Sinise Foundation website.
For more information on how to get involved, please contact us.
LITTLE BIT FOUNDATION
The Little Bit Foundation serves impoverished children in St. Louis city to remove barriers to learning. NWFA staff members volunteer at LBF regularly to positively impact at-risk students by providing school supplies, school uniforms, book fairs, mobile food pantries, toiletries, and health screenings. NWFA also hosts several sock drives at Expo and other events throughout the year, collecting and donating nearly 2,500 pairs of socks.
For more information about the Little Bit Foundation, please visit their website.
For more information about how to get involved or donate materials, please contact us.