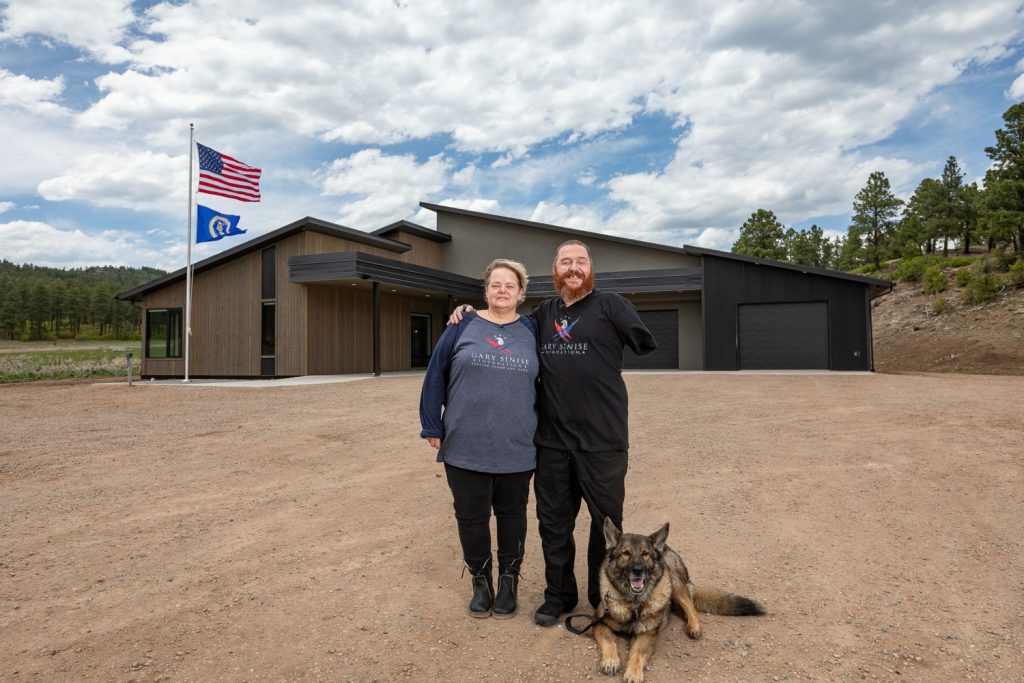 NWFA Completes 44th Home with Gary Sinise Foundation
ST. LOUIS, Missouri – The National Wood Flooring Association (NWFA) has provided flooring for its 44th home in support of the Gary Sinise Foundation R.I.S.E. program (Restoring Independence Supporting Empowerment).  The R.I.S.E. program builds custom, specially adapted smart homes for severely wounded veterans and first responders.  The home dedication for United States Air Force Technical Sergeant (Ret.) Matthew Slaydon took place on May 19, in Bayfield, Colorado.  Flooring for the project was donated by NWFA member Muscanell Millworks, through its distributor, Palo Duro Hardwoods.  Installation, sanding and finishing for the project were donated by Eugen Lägler GmbH, and Benchmark Wood Floors.
TSgt Slaydon was injured in 2007 in Baghdad during his third deployment. While on a call with his team as a counter-improvised explosive device (IED) team leader, an IED with 15 pounds of homemade explosives, rebar, nails, and wood screws exploded two feet in front of him. The blast resulted in the loss of his left dominant arm, and his left eye. He also suffered bilateral blindness without light perception, and many other severe injuries.
"I'm told Technical Sergeant Slaydon always knew he wanted to be in the military," says NWFA President and CEO, Michael Martin. "He joined the Air Force in 1989, and after a number of years serving as an aircraft armament systems technician, he retrained in 2002 to become an explosive ordinance disposal technician. He was in the hospital for 16 months following his injury, and continues to work today toward his recovery. We're honored to partner with Muscanell, Palo Duro, Lägler, and Benchmark to provide flooring for his new home."
In addition to the 44 homes already completed, NWFA currently is working with its members to source wood flooring for 18 additional R.I.S.E. homes in various stages of planning and construction. Currently, 138 NWFA member companies have donated product, logistics, and installation services in locations throughout the United States, with a total value of more than $4.56 million. A list of all NWFA R.I.S.E. participating companies can be found at https://nwfa.org/giving-back.aspx.
By the end of this year, 70 specially adapted smart homes will be completed or underway through the Gary Sinise Foundation R.I.S.E. program. To learn more about the program, and how you and/or your company can get involved, contact the NWFA at 800.422.4556, or e-mail them at anita.howard@nwfa.org.
The National Wood Flooring Association is a not-for-profit trade organization, with more than 3,200 member companies world-wide, dedicated to educating consumers, architects, designers, specifiers and builders in the uses and benefits of wood flooring. The NWFA is located at 111 Chesterfield Industrial Boulevard, Chesterfield, MO 63005, and can be contacted at 800.422.4556 (USA & Canada), 636.519.9663 (local and international), or at www.nwfa.org.