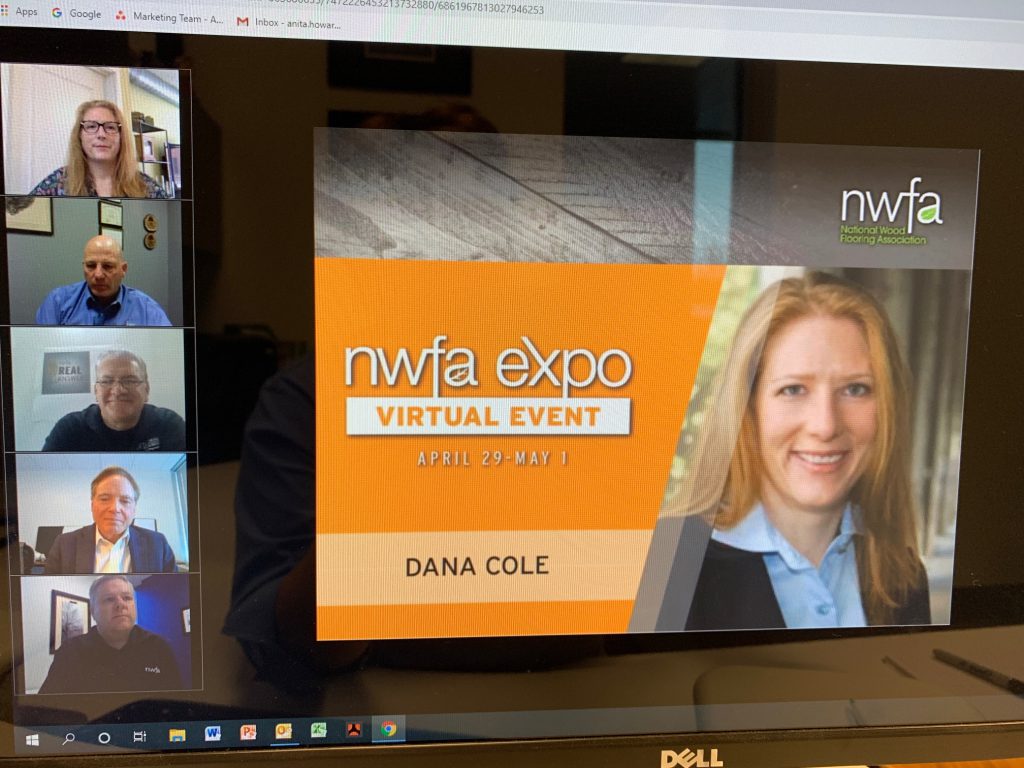 NWFA Concludes First-Ever Virtual Wood Flooring Expo
ST. LOUIS, Missouri (May 4, 2020) – The National Wood Flooring Association (NWFA) has concluded its first-ever Virtual Wood Flooring Expo. The event was held April 29 – May 1 with more than 200 exhibitors participating, and more than 2,700 registered attendees.
The three-day event featured live and recorded education sessions, exhibitor product demonstrations, technical skills demonstrations, and networking opportunities. Each live session and demonstration was followed by Q&A to enhance collaboration and learning. Sessions also were recorded for later viewing convenience as well.
"The level of engagement our first Virtual Expo received from the wood flooring community exceeded our expectations," says NWFA President & CEO, Michael Martin. "We had representation across the entire supply chain, and had an expanded international audience that we wouldn't necessarily have had at our in-person show. The virtual format allowed us to reach a larger audience, which provided new connections and opportunities for exhibitors and attendees alike."
One such attendee was Mike Hamer, Brand Manager UK and Ireland for Pallman. Via email, he wrote, "I am sure that when you had to cancel Expo this year, it must have been a very low point for you, and to decide to run a virtual event of this scale will have had its challenges. But for me, stuck here in the UK, it has been an absolute godsend." Hamer shared that he encouraged other European colleagues to participate and that those he received feedback from were "without exception, motivated, excited, and reassured that there is an organization setting standards and 'watching their backs.'"
In addition to education, attendees also had numerous opportunities to interact with exhibitors. Options were available to set virtual appointments, view videos, review press releases, and learn about specific products. Exhibitors also had the option to post show specials.
"We had great exhibitor participation," says NWFA Meeting & Trade Show Director, Penny Key. "Nearly 1,500 emails were sent, more than 3,200 exhibitor searches were conducted, and products were viewed more than 8,600 times. Even though we weren't face-to-face in Milwaukee like we had planned, our exhibitors embraced this opportunity to engage with a new audience in a new way."
Networking was another major component of the virtual show. Each day included virtual meeting rooms and a virtual happy hour to encourage collaboration and relationship-building.
"It was fun to see all the attendees interacting in the virtual meeting rooms," says NWFA VP of Education, Stephanie Owen. "We had attendees with babies in baby carriers, students from North Carolina State University, and our favorite 12-year-old NWFAU user, Fineas Luca, all in attendance, in addition to hundreds of others from around the world. We even had international members telling us they were setting their alarms to join us for live sessions."

For those unable to attend live sessions, recordings are available to view anytime, in additional to significant prerecorded content. Available sessions can be viewed here: https://www.nwfaexpo.org/NWFA2020/Public/Content.aspx?ID=1081. Registration is required, and is free: https://www.nwfaexpo.org/NWFA2020/Public/Content.aspx?ID=1070&sortMenu=101000.
Save the date for the 2021 Expo to be held April 28-30 in Baltimore, Maryland.
The National Wood Flooring Association is a not-for-profit trade organization, with more than 3,200 member companies world-wide, dedicated to educating consumers, architects, designers, specifiers and builders in the uses and benefits of wood flooring. The NWFA is located at 111 Chesterfield Industrial Boulevard, Chesterfield, MO 63005, and can be contacted at 800.422.4556 (USA & Canada), 636.519.9663 (local and international), or at www.nwfa.org.