NWFA Completes 70th Home with Gary Sinise Foundation
ST. LOUIS, Missouri (October 4, 2023) – The National Wood Flooring Association (NWFA) has provided flooring for its 70th home in support of the Gary Sinise Foundation R.I.S.E. program (Restoring Independence Supporting Empowerment).  The R.I.S.E. program builds mortgage-free, custom, specially adapted smart homes for severely wounded veterans and first responders.  The home dedication for United States Army Sergeant (Ret.) Shane Parsons took place on August 17, in Columbus, OH.  Flooring for the project was donated by NWFA member Sheoga Flooring.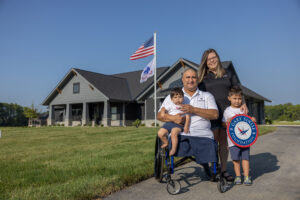 In 2006, Sgt. Parsons was off duty while stationed in Iraq, but volunteered to go out on a mission. As the lead driver, he drove over an improvised explosive device (IED) that was designed to cut through metal and protective gear. The explosion resulted in the loss of both his legs above the knee, and a traumatic brain injury.
"When Sgt. Parsons was air lifted out of Iraq, he suffered three cardiac arrests," says NWFA President and CEO, Michael Martin. "The longest one lasted 45 minutes, which left him unable to read, write, or manage daily basic living skills. Through his hard work, he has regained the ability to read, speak, and care for himself. We're honored to partner with Sheoga to provide beautiful wood floors for his new home."
In addition to the 70 homes already completed, NWFA currently is working with its members to source wood flooring for 13 additional R.I.S.E. homes in various stages of planning and construction. Currently, 153 NWFA member companies have donated product, logistics, and installation services in locations throughout the United States, with a total value of more than $6.9 million. A list of all NWFA R.I.S.E. participating companies can be found at http://www.nwfa.org/giving-back.aspx.
To learn more about the program, and how you and/or your company can get involved, contact the NWFA at 800.422.4556, or e-mail them at anita.howard@nwfa.org.
The National Wood Flooring Association is a not-for-profit trade organization, with more than 3,200 member companies world-wide, dedicated to educating consumers, architects, designers, specifiers, and builders in the uses and benefits of wood flooring. The NWFA is located at 111 Chesterfield Industrial Boulevard, Chesterfield, MO 63005, and can be contacted at 800.422.4556 (USA & Canada), 636.519.9663 (local and international), or at www.nwfa.org.