NWFA Completes 72nd Home with Gary Sinise Foundation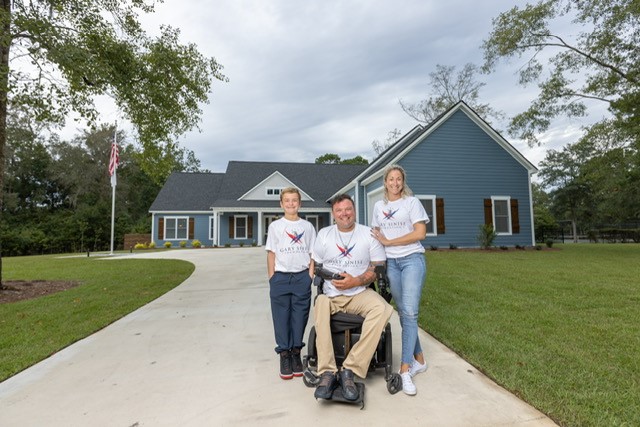 ST. LOUIS, Missouri (October 23, 2023) – The National Wood Flooring Association (NWFA) has provided flooring for its 72nd home in support of the Gary Sinise Foundation R.I.S.E. program (Restoring Independence Supporting Empowerment).  The R.I.S.E. program builds mortgage-free, custom, specially adapted smart homes for severely wounded veterans and first responders.  The home dedication for United States Army Sergeant First Class (Ret.) Ryan Davis took place on October 12, in Savannah, GA.  Flooring for the project was donated by NWFA member Allegheny Mountain Hardwood Flooring.  Sanding and finishing products were donated by NWFA member companies Norton Abrasives and Uzin-Utz/Pallmann.  Installation services were donated by NWFA members MSC Inc./Roswell Floor Refinishing, Southern Woods Flooring, and Davidson Wood Flooring.
Throughout his five deployments to Afghanistan and Syria, SFC Davis was invested in leading servicemen and women on missions and enjoyed finding ways to inspire younger soldiers. In 2019, while on deployment in Afghanistan, he and his team were conducting a raid when an explosion was triggered. The blast caused severe injury, resulting in the loss of his right arm above the elbow, his right leg above the knee, and his left leg below the knee.
"Sergeant First Class Davis underwent 28 life-saving surgeries as a result of his injuries," says NWFA President and CEO, Michael Martin, "and continues his recovery at Brooke Army Medical Center in San Antonio. He hopes to return to the 75th Ranger Regiment following his recovery to inspire and motivate other soldiers. We're honored to partner with Allegheny Mountain Hardwood Flooring, Norton Abrasives, Uzin-Utz/Pallmann, MSC Inc./Roswell Floor Refinishing, Southern Woods Flooring, and Davidson Wood Flooring to provide beautiful wood floors for his new home."
In addition to the 72 homes already completed, NWFA currently is working with its members to source wood flooring for 14 additional R.I.S.E. homes in various stages of planning and construction. Currently, 153 NWFA member companies have donated product, logistics, and installation services in locations throughout the United States, with a total value of more than $6.9 million. A list of all NWFA R.I.S.E. participating companies can be found at http://www.nwfa.org/giving-back.aspx.
To learn more about the program, and how you and/or your company can get involved, contact the NWFA at 800.422.4556, or e-mail them at anita.howard@nwfa.org.
The National Wood Flooring Association is a not-for-profit trade organization, with more than 3,200 member companies world-wide, dedicated to educating consumers, architects, designers, specifiers, and builders in the uses and benefits of wood flooring. The NWFA is located at 111 Chesterfield Industrial Boulevard, Chesterfield, MO 63005, and can be contacted at 800.422.4556 (USA & Canada), 636.519.9663 (local and international), or at www.nwfa.org.